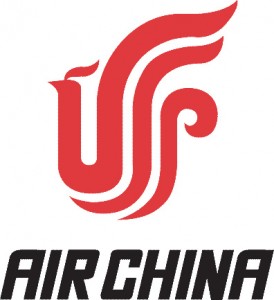 We begin our journey in business class on Air China. This is an Star Alliance partner with United, the carrier we most often use, but this time the schedule with Air China and the connections we needed to make was going to save us considerable time and so we opted to book both international and all of our domestic flights on Air China. Unfortunately the particular plane making the SFO to PEK route was part passage and part cargo plane. The seats which appeared to recline actually require your feet to be tucked under the seat in front and never elevated above your shin making for a long and uncomfortable flight. The domestic flights were fine, none over 2 hours and those were all first class, however the return was even worse than going. It started with Air China cancelling the flight from Hangzhou to Beijing which meant we could not make our international connection on the scheduled day. They said "due to weather" however other airlines were making the route, they in fact attempted to put us on one only to realize we would not have enough time to collect baggage and recheck on their international flight, so we spent 2 days and nights in the airports of first Hangzhou and then Beijing. They did move us from business to first class, however this time the plane was also a cargo/passenger and this one so OLD first class did not recline more than an easy chair and it was over 100 degrees in the cabin for the first 2 or 3 hours and never did cool down to the point of wanting to use the blankets. We were in the upstairs section however downstairs was nearly as hot. To add to the unpleasant circumstances, I swear there was smoking occurring in the cockpit, when I asked the flight attendant she immediately said "oh NO smoking is not allowed, let me check" she never again returned to our seats to update us. Until such time as the planes are updated and I can be SURE we are not flying a cargo plane on this 11-12 hour flight, we will stick with a less appealing schedule and stay with United. OK so much for the airline review – on to the Tea Journey!
We land in Beijing with 3 hours to make a connection to Kunming which ended up to be 2 hours late and so we arrived in Kuming at 2:00 AM. Nice NEW airport, however HUGE and not totally finished so once there we needed to walk from gate 69 (I THINK the very last gate) to the exit which took 45 minutes. There we had a car and guide waiting patiently to whisk us to the hotel where we would check in, spend 8 hours before checking out to take yet another flight to Dali where the real journey was to begin.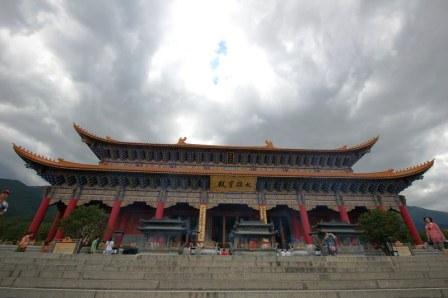 It was raining on and off and the sky gave you a feeling of being so small as we explored this gorgeous Buddhist Temple. Notice the magical blue sky just above the middle of the Temple.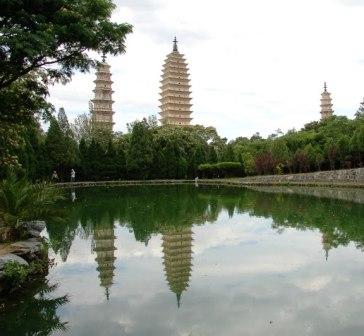 In the photo you are seeing three pagodas which are survivors of 1200 years of earthquakes and wars, now a sublime symbol of the City of Dali!