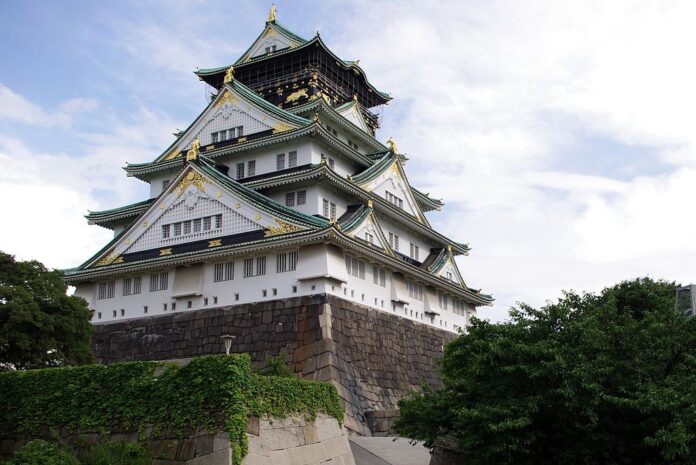 "The Castle where it all happens "
Our first stop was a perfect introduction to Japan's rich history. It's everything you would imagine of a 400 year old castle; a moat, stonewalls, watchtowers, beautiful gardens, and sprawling palace. Yet each castle has its own unique design and historical relevance. Nijo Castle was built by and was the Kyoto residence of the Tokugawa Shogunate and is now a UNESCO World Heritage Site.
With the last name "Tokugawa" it is no surprise that my sisters and I would joke about our family having castles all over Japan. Now within the outer wall of Nijojo I am walking the peaceful garden imagining what it would have been like in the 1600s to attend court here with "my ancestors". And would they have imagined that 400 years later tons of tourists would come from all over the world to learn about their reign and fall.
We scurry along with the herd into Ninomaru-goten Palace. With shoes off you can feel the draft of the old structure. The smell of tatami mats and aging wood adds to the ambience as the floors chirps below our feet, in what is called the Nightingale Corridor. No pictures are allowed nor could any really capture the beauty of the carvings and paintings that covered every inch of the palace, from the ornate coffered ceilings to door knobs, not one detail overlooked.
Kris was drawn to the huge openwork carvings in the third room, each from a single piece of 35cm thick cypress with a different scene viewed from each side. My eyes sought out all the gold embellishments and tassels, each of the 33 rooms were slightly different and meaningful to the room's intention. The Ohiroma room depicted an official audience with figurines representing different clans sitting on their heels. The different levels of the floor show their hierarchy and give respect to those above. While even at the top the figure was kneeled in respect and compassion to his audience.
As an Asian-American, learning Japanese traditions from your parents and grandparents doesn't always open your eyes to the larger picture of why we do some of the things we do. It is at this castle that I start to see history and tradition leak into the core beliefs of modern Japanese people.